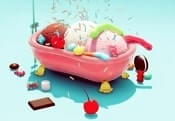 Nour: Play with Your Food FREE GAME · PLAY ONLINE
This game is for real gourmets! Here players will go to locations full of delicious delicacies. Sometimes the scenes look absurd, but this only adds to the interest! You will have to watch ice cream or marmalade splashing in the bathroom.
Or pieces of bread and dance in the pool! This challenge is filled with various exciting events that will whet your appetite! It's better to eat before starting the process to avoid drooling! The music will depend on the tempo of the participants, so get on the beat!