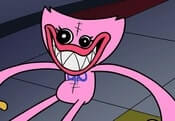 Kissy Missy FREE GAME · PLAY ONLINE
We continue to get to know the characters of that mysterious factory game better. This time we have prepared something really cute for you. Her appearance is pretty like Huggy Wuggy. At the same time they have some differences too. It is some tall and extremely pink creature, which doesn't look like some human or doll.
Despite the fact that she is colored pink, her feet and arms are yellow. She shares some similar abilities with her male version too. It is very plastic and stretchy. She has a huge scarlet colored mouth which explains its special habit.