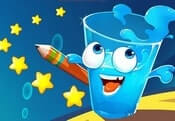 Happy Glass 2 FREE GAME · PLAY ONLINE
Happy Glass 2 is a fun puzzle where players are asked to fill a cup with water. But you need to do it creatively and outside the box! As you progress through the levels, you will need to use your logic to draw lines and shapes.
It is with their help that the water will be directed into the container. There will also be obstacles, such as moving platforms. Earn stars and unlock new features to make it even more interesting! This challenge will perfectly train your brain and bring benefits!