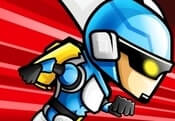 Gravity Guy FREE GAME · PLAY ONLINE
This is an unusual game where you can do it with your friends. Here, each of the participants needs to have a quick reaction to cope with the task. This is a story about a boy who has to go a long distance. He will be pulled to the ground or vice versa to the sky while he is running.
Players need to control this and keep it from falling off its feet! Press the buttons to try and master the situation! Don't let the robot catch up with you and lose all the results you've got. Be nimble and quick-witted so you don't screw up!