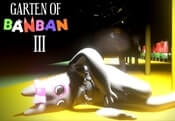 Garten Of Banban 3 FREE GAME · PLAY ONLINE
Garten Of Banban 3 is a sequel about a kindergarten. Players will have to plunge back into this creepy story. In this part you have to go down to a new place. It is saturated with a negative aura and there are many monsters.
These are the same mascots that amuse kids during the day. You have to be very attentive to pass all the tasks and get the truth. Use the drone to help you navigate! In addition, there are a lot of puzzles that must be solved. Will you cope? There's no turning back, so you'd better try!