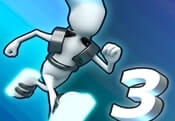 G-Switch 3 FREE GAME · PLAY ONLINE
This is the next version of the popular challenge for eight players. In G-Switch 3 you have to go on an exciting journey! Here everyone needs to master the skills of parkour, because without them you will not be able to cope.
There is a strange feature here that will surprise everyone involved! You will not control the hero, but will control gravity. The character will move forward endlessly, and you need to help him overcome traps and barriers. The main task is to reach the finish line without loss.