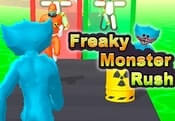 Freaky Monster Rush FREE GAME · PLAY ONLINE
The famous blue toy from the abandoned factory wants adventure! It's up to you to give him that opportunity and have fun with him. He will run a certain distance to get to the finish line. Collect energy that will help him move on. Also be careful not to leave the green zone.
In the game you have to be very attentive and quickly react to obstacles. If something goes wrong then you can start over! Items that the character collects during the level will be used during battles. Defeat the boss at all costs!