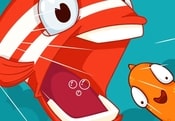 Fish Eat Fish FREE GAME · PLAY ONLINE
Are you ready to go explore the ocean? In Fish Eat Fish you take on the role of an underwater creature! This seems like a pretty simple task, but it's actually not at all. Players will have to dive to a considerable depth and try to survive here.
Around the hero will be a huge number of others. They can be bigger than you, so you need to be always on the lookout! Respond quickly so as not to become someone else's lunch or dinner! The more you consume small prey, the more you grow in size! Become a master!