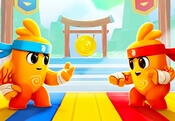 Dice Dreams FREE GAME · PLAY ONLINE
Welcome to the superb castle! In Dice Dreams you have to go on a grand journey! Players have to build their own castle and lead it. This is a board game in which you can fight with your friends. Here literally at every step there will be fun and excitement!
Throw the dice and see the numbers you get! Explore the islands and immerse yourself in the history of each of them. Learn the legend about peonies, mysterious animals and more. Can you become a master? Get points and coins by extracting treasures!