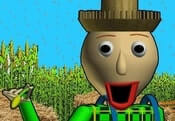 Baldi's Farm V2 FREE GAME · PLAY ONLINE
Baldi's Farm V2 will make anyone nervous! This time you're going to a cornfield and it's all because of your best friend. He suddenly wants to eat, but he doesn't have enough money. The hero will remember this trip to the village for a long time!
A teacher who has prepared tasks will suddenly appear among the bushes. His tasks have a mathematical bias and therefore be careful. Remember all the rules, formulas and much more to stay alive! Will you be able to reach the end without getting hurt?