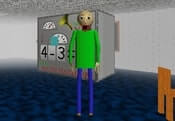 Baldi's Basics Classic Remastered FREE GAME · PLAY ONLINE
Visit a terrible place where everyone can get knowledge! In the game, you were locked in the school and now you need to find a way out of here. In addition to you, there is a teacher here who will make you hide.
He has good hearing, so players need to be quiet to avoid getting caught. Collect the necessary items and use them to reach the main goal! Don't forget that there are other enemies here, so don't fall into the trap of his friends! Enjoy this atmosphere and find out what real horror is!