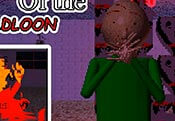 Attack of Baldloon FREE GAME · PLAY ONLINE
This is an exciting game that will distract you from routine affairs. We cannot guarantee that you will relax here. Most likely, tension will be in the air every second. The main task of the players is to destroy all the balls.
They will appear on the field in a random order, so you need to be very careful. A quick response will definitely be useful to the participants. Be careful not to miss any of the objects! If this happens, the process will end. Over time, everyone will get the hang of it and become a master!