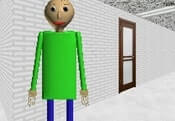 Baldi's Basics in Education and Learning FREE GAME · PLAY ONLINE
In this game you have to go to school and fight with the teacher. He is very cunning and has prepared many tasks for you. In order to solve them, players will have to have good logical thinking and other useful skills.
Explore long corridors and constantly look around to avoid falling into one of the traps! In order to escape from here you have to find notebooks. Be careful because there are several more besides the main enemy! They all want to punish you, so find the right solutions!