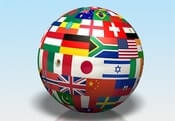 Quiz Guess the flag FREE GAME · PLAY ONLINE
Each state has a unique banner that indicates the uniqueness of this one. There are about 200 countries in the world. Do you know all the images and emblems? Can you distinguish their features? In Quiz Guess the flag, players will test their knowledge and try to prove that they are erudite!
This process is fascinating and will delay from the first seconds. Excellent graphics will allow you to view the photo with great accuracy. The levels will become more difficult which will force the users to focus!