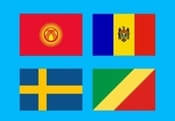 Geo Challenge FREE GAME · PLAY ONLINE
Geography is very important in today's world! In the Geo Challenge, players will test their knowledge and gain new ones! Send to the field and start this exciting process! Here, participants must guess the countries and their attractions.
Times will be easy and sometimes too difficult. In any case, These skills will definitely come in handy over time. Be careful and focused so as not to make a mistake! Fight with friends and prove that you are very smart! Do as many as you can! Good luck!