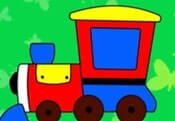 Educational Games Kids FREE GAME · PLAY ONLINE
This game contains several entertainments that will help you develop. The mind is the most important thing in a person and everyone wants to see it in their child! Today, children will be able to demonstrate their dexterity, attentiveness, and lightning speed.
Thinking in different situations is very good, especially when they are stressful. Little ones will be able to drive a motorcycle, bicycle and car. Be careful not to get into an accident! Also learn numbers, letters, make words, color and more!