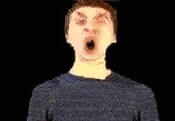 Principal's Craziness FREE GAME · PLAY ONLINE
Imagine that you are a high school student who never follows the rules. All the employees of this educational institution are tired of your antics. But most of all you annoyed the manager of the school! He was so mad that he took everyone hostage.
You have the opportunity not to fall into the hands of this person. You need to go around all the classrooms to find all the notebooks. Most importantly, during the search, do not catch the eye of the villain. If he catches you, the game will be over.