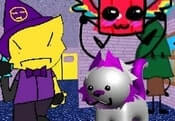 Awesome School: Remastered FREE GAME · PLAY ONLINE
The angry teacher wants to check if you are relaxed during the holidays! In Awesome School: Remastered, players will return to confirm their knowledge. As you know, this man is very angry and strict. He will ask questions and force you to solve mathematical exercises.
Receive notebooks if you do everything right! In total, you need to collect seven of them to leave this place. In addition, fans can try out exciting modes and find hidden rooms. It will be nerve-wracking, but it will prove that you are smart!