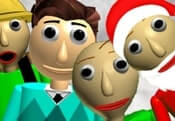 Baldi's Basics Mods FREE GAME · PLAY ONLINE
If you like to experience adrenaline, then welcome! Here, players will have to be very dexterous in order to escape from a closed school. You will not be alone and a real maniac will follow you. This is a teacher who wants to test your knowledge and will give you challenging math problems.
Baldi's Basics Mods has tons of add-ons that will surprise everyone! Will you succeed in this mission or will you stay in the building forever? The enemy will suddenly force you to solve equations and stuff.