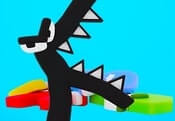 Alphabet Lore 3D FREE GAME · PLAY ONLINE
Alphabet Lore 3D is a cool new challenge! We invite you to a magical world where hostility is constantly taking place. Have you ever seen how letters quarrel? Every conflict starts one of the most evil. He always finds something to complain about and yell at.
Which side will you be on? Help the children to cope with all the tasks. React quickly and watch the process! This fun will not leave you indifferent and that's for sure! Enjoy these emotions and get cool impressions! Test your stress resistance!