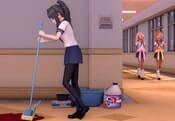 Yandere Simulator Update FREE GAME · PLAY ONLINE
Now players will be able to observe some improvements in the game. This time you will again help the girl to get attention from the guy. She is an ordinary student who is not very popular at school. But her name is still known and therefore you need to be careful.
Players must do everything possible to get rid of the competitor. Come up with the most terrible way, but just don't get caught! There are students here who are spying and can make dirt on you. Be careful and consider each subsequent step!