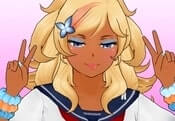 Musume Ronshaku FREE GAME · PLAY ONLINE
This is another part about a student who wants to get a guy's heart! Musume Ronshaku is one of the girls who goes to school. She has a lot of attention from Senpai and it's infuriating! The player will have to help the lady get rid of her. Do dirty tricks to kick her out forever!
You also have to communicate with other characters to maintain a good rating. Bring it up if things don't go according to plan. You can also use the heroes for your own purposes. Make sure that there are no traitors among them!