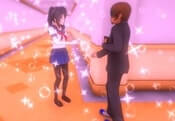 Yandere Simulator 2023 FREE GAME · PLAY ONLINE
Welcome to the super dangerous Yandere Simulator 2023! Here, players will visit a school where one abnormal student is studying. She wants to get the attention of the popular Senpai. But for now, he communicates with other girls and does not even look in her direction.
To fix this you need to get rid of the unwanted object! This version has even more exciting features. Find out what the main character is ready for for love! Sometimes you have to help her hide the body in the closet.