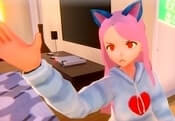 Yandere AI Girlfriend Simulator FREE GAME · PLAY ONLINE
If you are in need of a relationship, then welcome to Yandere AI Girlfriend Simulator! She has locked you in a room and doesn't want to let you go. The main task of the players is to be able to escape from this trap.
Make every effort to find a way out otherwise things will be very bad. In addition, the girl has artificial intelligence, which complicates the process. Talk to her and you might be able to reach an agreement with her. Do not show that you are afraid of the lady, although that might not help.