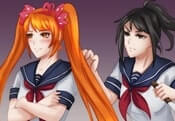 Osana Yandere Simulator FREE GAME · PLAY ONLINE
In Osana Yandere Simulator, players will meet a new victim. She communicates nicely with a guy who likes the main character. It must be destroyed at all costs! In order to do this, you have to be very dexterous and thoughtful.
Come up with a sure way so that no one else sees the poor thing! Lock her in the basement, ruin her opinion or something more serious. So that no one thinks of you – have a nice communication with the rest. Let everyone think that you are not capable of murder! Achieve the desired goal!