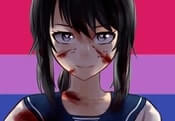 Ayano Aishi FREE GAME · PLAY ONLINE
In this game, you will take control of a female student. She is in high school and is secretly in love with one of the guys. He does not pay attention to her, but you must help her fix it. This time, the girl has a new competitor that needs to be eliminated.
To do this, ruin her reputation or make her expelled. Also, the player can choose more violent ways. For example, keep her in the basement for a while or kill her! But be careful not to be suspected of this! Make friends to cover for the hero!