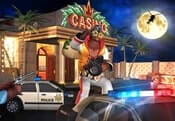 Vegas Clash 3D FREE GAME · PLAY ONLINE
Following the rules and laws is very boring. The main character is in a gang that creates chaos on the streets of the city. Prove that you are crazy guys and rob the casino! Do you already have the perfect plan?
In this game, players will not only do dirty things related to money. They will also arrange a shootout with the cops and their assistants. Do you have everything you need for this? Explore the map to find the right items with which you can strike. Also collect first-aid kits to replenish health!