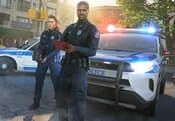 Police Simulator: Patrol Officers FREE GAME · PLAY ONLINE
Surely you have often thought about how difficult it is to get rid of crime. It is literally everywhere and even on your street. In this game, players have a chance to test their strength and influence. Here everyone will end up in a city where a lot of trouble happens.
Get in the car and start keeping order! If you suddenly notice that a citizen is doing something illegal, then write him a fine! For example, it could be littering or smoking in illegal places. Discover new types of atrocities and destroy them!