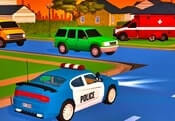 Traffic Cop 3D FREE GAME · PLAY ONLINE
Today players will become fighters for justice! It's time to get rid of crime and other dirty deeds! In Traffic Cop 3D you take on the role of a police officer. Go to the scene and begin to fulfill your duties. This is a highway where hundreds of cars pass a day.
Users need to scan their vehicles and use the database. It indicates whether a person has done something bad in the past, and so on. If he makes you suspicious, then stop him and check the documents. If not, then let him go, consider him lucky!