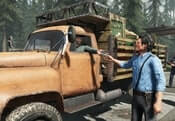 Contraband Police FREE GAME · PLAY ONLINE
You will go to the border and be in charge of security. In Contraband Police, players will take on the role of a guard and fight crime. If you think that it will be easy, then you are mistaken, because you will have many responsibilities.
Many people will want to deceive you in order to sneak into the country secretly. Many of them will carry illegal items in their trunks. Your task is to prevent it! Explore the car wherever you can to find bad things. Check passports and even detain ill-wishers!