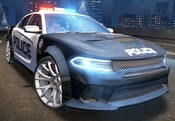 Police Simulator FREE GAME · PLAY ONLINE
In this game, players will fight for order in the city! Immerse yourself in one of its districts and do your best to eliminate crime! It seems like a very simple matter, but spend some time here. At the beginning of the process, you will be issuing parking tickets and so on.
But a little later, everyone will be able to join city life and become a part of it. Accumulate useful skills and experience to open new areas later! It will also help you move up the career ladder. Here the users will take real responsibility!