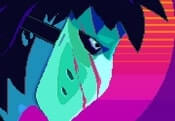 Party Hard Go FREE GAME · PLAY ONLINE
The main character decided to take a nap, but the neighbors were listening to loud music. Instead of telling them that they were in the way, he decided to kill. In Party Hard Go, players will have to stealthily sneak into someone else's territory!
You will have a knife in your hands, with which you can destroy the lawless people! In order not to be noticed, pretend to be one of the crowd! In the worst case, they will complain about you and the police will come. Find other items that will be useful in dirty deeds!