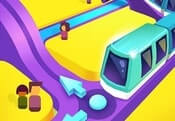 Train Taxi FREE GAME · PLAY ONLINE
Residents very often choose personal transport that will take them to the right places. In this game, players will control a locomotive! You have to go to the station and then start moving along the lines. Be careful to collect all the passengers on the way!
The fewer circles you make, the more points the level will bring you. By the way, each of them is unique and will become more difficult! The rules are simple and fans only need one finger to do this. Can you think logically to get good results?