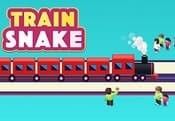 Train Snake FREE GAME · PLAY ONLINE
Train Snake is similar to the popular challenge game, so the rules should be clear. Here players will control a locomotive that needs to get to the end point. Along the way, you must collect tourists to take them to their designated places.
Each time the transport will increase in size, which makes you worry. Find the right way to control this so as not to get confused and screw up! In addition, the road is full of various barriers and cars, so be careful! One wrong move and you could get into an accident!