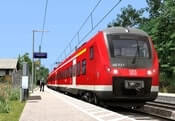 Train Simulator FREE GAME · PLAY ONLINE
If you have long wanted to ride on the railroad tracks, then welcome! In Train Simulator, every player will be able to control a locomotive. The routes are already ready and all you need to do is take the steering wheel in your hands!
Pay close attention to the panel with many buttons and rush like the wind! This process is truly exciting and can surprise you with stunning graphics. Here fans will be able to enjoy beautiful scenery and visit places they have long dreamed of. Immerse yourself in this atmosphere!