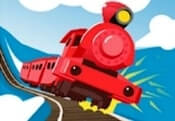 Off The Rails 3D FREE GAME · PLAY ONLINE
In this game, players will control a long locomotive. It is very important to get to the end point without getting hurt! The whole process focuses on your dexterity and ability to distribute actions correctly. Can you become the winner in this challenge?
Fans should always be aware of their fuel reserves and constantly save it. Come to the mountains and then descend with your foot on the gas pedal! Try to reach the maximum speed, but be careful not to fall off the road tracks. Have fun and improve your skills!