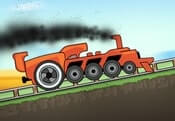 Train Racing FREE GAME · PLAY ONLINE
This game is for everyone who loves to take risks at high speeds! Here players will be able to feel themselves in the role of a driver. Fulfill your childhood dreams and prove that you are a real professional! To get started, learn all the rules and complete a little training.
Once you have memorized all the buttons, then go on a trip! Press the brake and gas pedals in time! You must get to the required location at any cost, so be careful. Don't forget to pick up tourists and don't crash into danger!