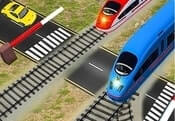 Rail Road Crossing FREE GAME · PLAY ONLINE
Everyone knows that the work of a machinist or an ordinary driver is very difficult. But in this game, players will have completely different tasks! Today you will carry out missions on which the future of other people depends.
This is very responsible and therefore always be careful and alert. Fans will control all barriers, traffic lights and much more. Every decision you make will affect the plot, so don't make mistakes! Do you think the trolleybus will have time to cross the railway tracks?