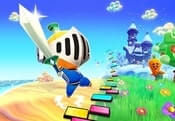 Rhythm Sprout FREE GAME · PLAY ONLINE
This game will give everyone incredible emotions that will be remembered forever! Cool vegetables live here and you will take the role of an onion. Players have to go on an exciting adventure, where they are waiting for fun events.
But besides this, there will be dangerous opponents with whom you have to fight. The main character has a sword that will help you deal with enemies and overcome obstacles. This is a musical process where you can have fun and relax. Learn about the biggest secret of this universe!