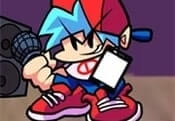 FNF Mobile Mods FREE GAME · PLAY ONLINE
This guy takes part in rap battles every Friday. He does this so that the father is allowed to meet with his daughter. Each time he takes the stage with a new opponent. True fans know that he met with completely different characters.
In this game, players can take part in exciting musical fights. Choose an enemy and perform a few songs to unleash your talents! You must be agile and able to react quickly to be the winner. Don't relax until the end of the round or you'll lose your grip!