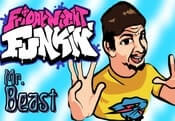 FNF Mr Beast FREE GAME · PLAY ONLINE
Welcome to the humorous version of the game! Today Boyfriend is waiting for a difficult test but with elements of jokes. The process is based on a music video that is popular all over the world. Players will have to sing several songs with different opponents and have fun!
Look at their movements, but don't forget to concentrate! At the end of the round, you will be met by cool characters that you definitely did not expect to see here! Be careful to maintain the correct rhythm and don't screw up!