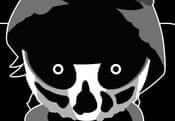 Incredibox Void FREE GAME · PLAY ONLINE
Incredibox Void is a mod that will allow players to enjoy music. Here, fans will be able to create a unique melody that will fly around the world! Perhaps this is your chance to become a famous composer, why not?
In this challenge, before starting the main process, you will see 7 characters. They are unique and talented because they can make amazing sounds. Drag the clothes and accessories icons from below to them and enjoy the sound! You can constantly change them to get the desired result.