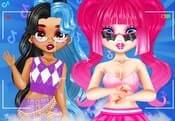 TikTok Dance FREE GAME · PLAY ONLINE
As you know, there is a huge platform with short videos. People come up with unique movements, combine them and then the whole world repeats them! In this game, players will be able to enjoy great music and move to it!
On the field there will be a character who is ready to do whatever you tell him. As soon as you notice that the arrows start to fall, then immediately click on them. This way you will get choreography that will bring joy. Get points for every correct click and enjoy the moment!