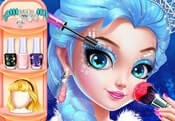 TikTok Baby Girl FREE GAME · PLAY ONLINE
In TikTok Baby Girl, players will meet three charming ladies. They decided to take their career seriously and become successful on a well-known platform. They are far from being professionals in this matter and need help. Let's do our best to get a lot of followers!
Before you start filming clips, they need to prepare. Give them a great makeover, pick out wardrobe items and add some jewelry. Don't forget the hairstyles and other extra items that will attract new fans! Can you handle it?