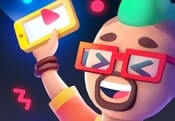 Idle Tiktoker FREE GAME · PLAY ONLINE
In this game you will try to become the most famous blogger. Start as the smallest and most unrecognizable character, and then develop. The rules are quite simple and difficulties are unlikely to arise, but still be careful.
Make short videos that will surprise fans and get a lot of likes! Get profit and use it to improve the camera, lights and more! With each tap on the screen, your success will be getting closer, so train your reaction. Show what you are capable of and make everyone love you!