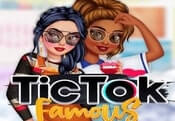 TikTok Famous FREE GAME · PLAY ONLINE
In TikTok Famous, you will meet beautiful princesses. They decided to go into the world of short videos and stay there for a while. Here you need to upload videos that will scatter all over the cities and get likes. Girls do not quite understand how to do it right, but you will help them.
Before putting out their first blog, they must dress nicely. Pick them things in the wardrobe that will be perfect! Then do their makeup, hair and add earrings or a necklace! When you're ready, set up your camera and have fun!