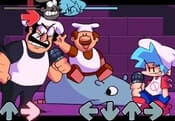 FNF Pizza Tower FREE GAME · PLAY ONLINE
An elderly and fat man ran into trouble some time ago. He must save his pizzeria from terrible monsters and you will help him in this! In FNF Pizza Tower, players will be able to witness new events. In this mod, you will control a chef and fight in a musical battle with the main bosses.
They will take it in turns to take the stage and show their musical abilities. Can you defeat them and get rid of them forever? Be nimble and carefully follow the actions on the screen. Without a quick reaction you can not cope!