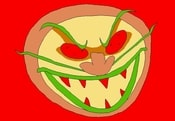 Pizza Tower Pizzaface FREE GAME · PLAY ONLINE
This boss appeared at the very beginning of the game and you should definitely have noticed him. He gave you a look that meant friendliness. As you progress through the floors, the main character will meet him as an evil enemy.
He informed the chef of his brilliant plan to destroy his pizzeria. At the top of the building is a laser that will soon activate. The enemy will follow you all the way until he decides to attack. Here, players will have to be agile and react quickly to avoid danger!