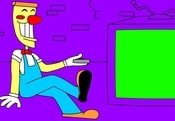 Pizza Tower Pizzahead FREE GAME · PLAY ONLINE
After the defeat of the previous boss, you have to go further! In Pizza Tower Pizzahead you can see a huge piece of cheese pizza. It is long, thin and dressed in overalls. He holds the phone in his hands and seems to be taking the situation lightly.
His wide smile and narrowed eyes indicate that he wants to have fun. His comedic attack will make players laugh! Force him to submit to you and return back to the fortress. Find out the ending and be surprised by unexpected events! It will be a great experience!