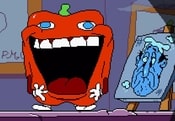 Pepperman Pizza Tower FREE GAME · PLAY ONLINE
The old and fat chef of the pizzeria continues to fight the bosses. In Pepperman Pizza Tower you have to meet one of them and find out what he is capable of! This is a huge vegetable that has limbs. His gloves are the same color as the sneakers on his feet.
Very often he makes a wide smile which proves that he is very confident in himself. Start attacking him and watch how his color changes. It depends on how much he loses strength. Make it turn light yellow to indicate that it has lost. Good luck!